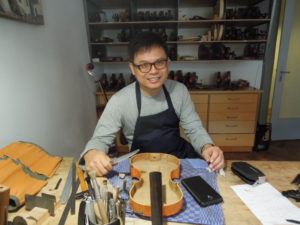 RESTORATION of Old instruments to make them playable again.
REPAIRS of instruments to allow the instrument to be 100% OptImized , good sounding & response for playing
Annual Inspection – We recommend that all instruments be inspected annually to ensure the instrument is sounding good.
ADJUSTMENT – Adjustment & Set-up of Stringed instruments is very important if the instrument does not sound good. It could just be a bridge, Sound-post or even Set-up adjustment that will bring the instrument back alive.
Annual Inspection: We recommend that all good quality instruments go for an Annual inspection to ensure that the instrument is playing 100% according to the player's wishes.
Violins, Viola, Cello & Contra-Bass are stringed instruments with many parts vibrating during performance and sometimes it does happen that there is changes to the integrity of the instrument resulting in loss of Sound, Volume, Response, Clarity across some strings or all of the strings.
REPAIRS
Our clients are professional players doing concerts and playing in professional orchestras who require their instruments to sound good.