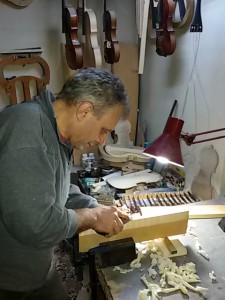 Ivan Stankov is a Master Luthier among Bulgaria's most respected makers. His instruments are gaining a sparkling reputation for tone, craftsmanship and finishing.
Stankov studied violin making in Cremona School in Italy.
In 2009 Stankov took part in two contests – in Italy at the Trienalle and in the European Eufonia Competition. Eufonia saw his viola take 7th place and his cello 6th place.
He uses traditional Italian methods of construction and select well-seasoned European spruce and Balkans maple tone wood. His violins are finished in the method of England's David Rubio. Here a pine-resin oil varnish is brushed over a special coat of mineral ground. This advanced varnishing technique was developed after many years of studying the genuine violins of Giuseppe Guarneri and Antonio Stradivari.