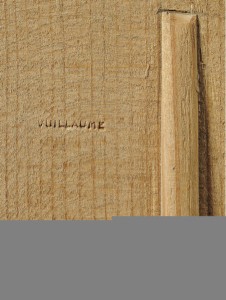 Jean-Baptiste Vuillaume (October 7, 1798 – March 19, 1875) was an illustrious French luthier and winner of many awards (which are listed below). He made over 3,000 instruments and was also a fine businessman and an inventor.
Vuillaume was an innovative violin maker and restorer, and a tradesman who traveled all of Europe in search of instruments. Due to this fact, most instruments by the great Italian violin makers passed through his workshop. Vuillaume then made accurate measurements of their dimensions and made copies of them.
He drew his inspiration from two violin makers and their instruments: Antonio Stradivari and his "Le Messie" (Messiah), and Giuseppe Guarneri del Gesù and his "Il Cannone" which belonged to Niccolò Paganini; others such as Maggini, Da Salò and Nicola Amati were also imitated, but to a lesser extent.
Vuillaume made numerous copies of his favorite violin "Le Messie", the more noteworthy among them being: